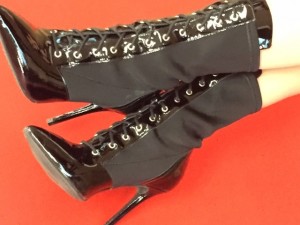 For the month of October, the management team would like to announce that the winner of the Shoe award is ………..ANASTASIA!
Anastasia is a positive, cheerful member of the LGT team, she is always willing to lend a hand wherever help is needed.
Anastasia has booked fantastic leads on some of the more challenging campaigns, she is determined and diligent in her pursuit of excellent leads, and will leave no stone unturned in identifying and following up on prospects and opportunities to book leads.
She provides invaluable support to both the management team, and her colleagues alike. She will often help other team members with useful suggestions and coaching to ensure that everyone is successful in reaching their goals.
Anastasia provides great support to Jeanette, and when Jeanette was away recently, Anastasia helped to ensure that everything ran smoothly in her absence.
She has been instrumental in the success of the Wakefield Heavy Duty Campaign, and she has been very successful in booking great leads from the hand- picked wish list of the reps, and this has made the Wakefield Heavy Duty TSMs very happy indeed.
She took home a few batches of CEW last month to ensure that they were imputed and on time.