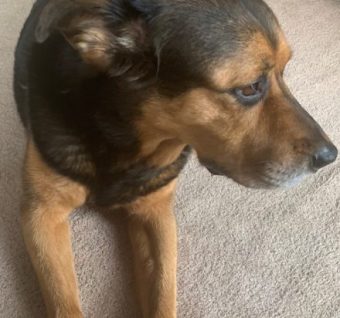 My husband, son and I went to Montreal this weekend to visit with family and on our drive back home on Tuesday, about an hour and a half out, we received a few pictures from my daughter in addition to a panicked call.
Our 10 year old Husky/Bullmastiff, (Coco), was sick and dispensing it from both ends….  The initial deposit was made in the living room, after which she walked in it, trailed it over the tiles through the kitchen, down the hall across the front mats, threw up in the rubber shoe tray at the front and then proceeded to walk up the carpeted stairs to the upper hallway where she made her second deposit and laid down in it …. completely spent at this point!
From what I saw in the pictures my daughter had sent, we knew that a one day carpet cleaner rental would not do the trick.   I called a large retailer in our city to ask if they sold any carpet cleaners that could handle the job.
The store's customer service agent answered, I asked if they had any heavy duty carpet cleaning machines in stock, and without a word, I was put on hold. Read More