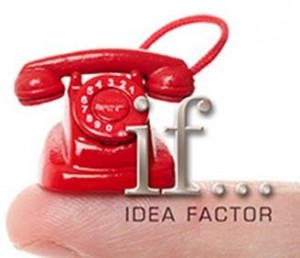 I opened my first business when I was just a youngster of 25 years old.
A friend of mine somehow got distribution rights to a software package – for North America which would be a competitor to ones that are popular today like SalesForce or Goldmine. Back then- it was cutting edge.
So- we opened up a company called Science Of Selling. Cool name huh?
We did all the things you DO in a new company. Beautiful brochures- big yellow pages ad – ( of course that sounds funny but it was pre-internet days).
We participated in trade shows, wrote articles for industry magazines – but nothing was working.
That's when we started attempts with Direct Mail. We designed a brochure and had 5,000 printed. Then we gave them to Canada Post to deliver them to all the businesses in our neighborhood.
Then- we sat by the phone.
NOTHING.
I would phone my friends and say-:" Can you please call me because I don't think my phone is working…;.( "
So- we decided to send out our beautiful colour die-cut extremely expensive brochure that was black with a silver telephone on the front.
Then – we sat by the phone.
NOTHING.
OK, we thought if they won't call us- we will call them.
Oh boy. Now I know why people don't like the word 'telemarketing'. To my complete surprise- even back then- people hung up on me. Swore at me. Refused my calls. I was shocked. And one thing I knew for sure was I didn't want to do that again.
So, now what?
We decided we had to mail something 'interesting' in order to get people's attention? But what?
Money was getting tight. It had been months of 'trying' and we had everything we needed. We just didn't have any customers.
So after a number of clever and not so clever IDEAS we decided to rip a letter in half. We took our business letterhead and typed ( yes with a typewriter) on the left side only and it said:
" We'd like to talk to you about increasing your sales while decreasing your selling costs but that is only half the story.
We will call you soon with the other half…."
Then we started calling our target audience.
Voila!
The magic and the power of good Direct Mail was born.
There have been lots of changes and enhancements since those days- however- the following statistics are still pretty accurate.
RESPONSE RATES
Direct Mail on its own                                         Reactive Response Rate      0-1%
Direct Mail with something interesting           Reactive Response Rate      0-3%
Direct Mail with telephone follow up              Pro Active Response Rate    3 to 5%
Direct Mail with something interesting and telephone follow up        Pro Active Response Rate   8-15%
If you use direct mail as a part of your go-to-market strategy, we hope this will be helpful to you. That ZERO number in the first listing gives me hives!