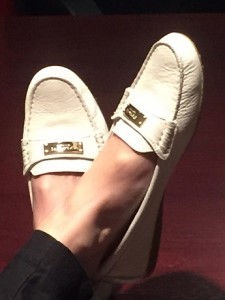 For the month of April, the management team would like to announce that the winner of the Shoe award is ……  Sophie.
Sophie could have won this award on attitude alone.  She is constantly trying to learn of new things and find out if there is anything else she can do to help.  NOTHING gets her down, she is ALWAYS positive and diligent in her work.  Let me share a personal "shout-out" from a customer to her on a campaign that she worked on.
"Thanks to everyone at Idea Factor for a great experience.   A special thank you to Sophie for all your efforts. 
We hope to work with your team again in the near future."
Colin Low-Ring DESTECH 
Sophie manages to persevere and book on some of the more challenging campaigns.
Sophie has booked some stellar leads for our internal lead generation efforts.
Sophie often offers to adjust her schedule to better her chances of reaching contacts.
Sophie is AWESOME!
Sophie's never ending quest for excellence – speaks directly to our Mission and Vision Statements here at IF.
In fact — during her recent performance review — where she ranked very high — her first question was: How can I rank HIGHER!?
"Shoot for the stars- and you might just get there"
CONGRATULATIONS Sophie!