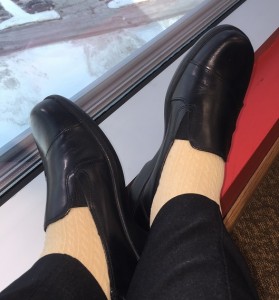 This month was a SHOE-IN!  (No pun intended) This person has really upped the ante as far as embodying the vision and mission statement here at Idea Factor and to illustrate how…. I am going to share a customer story….
We had a call with a representative and his manager in QC as well as the partner that had referred us to them.  They were happy to hear about the steadier pace of leads in Ontario, but disappointed with the slower pace of the leads in QC. So I called in my "MTL homies" and we outlined in detail the reasons for the disparities in the two campaigns, to which Genevieve and Joanne were to help me speak in greater detail as they had made the calls.  So we scheduled a call with the three gentlemen the following morning and were armed and ready.
I arrived early the next day, and there is a message from Genevieve that one of her girls is ill, but she has left me detailed notes and GM record print outs for the call.  The next message I listen to is the customer moving up the time of the call by half an hour or so!  Now, I have lost my back-up and have to take the call myself as Joanne was scheduled to come in for the time originally scheduled for the call.  Little did I know, she had found out that the call was going to happen earlier, and was here in time to participate in the conference call with me.  I can hold my own, but it definitely had a very positive impact to have her give the customer direct feedback about the calls and subsequent analysis of the results which led to a new direction for the campaign.  Our culture at Idea Factor has always been one of nurture and support for your colleague's and although this is only one of the reasons, for me, this was definitely the standout for the month, and February's winner: JOANNE!!!
Joanne went over and above by:
Developing her own strategies to expand her lists when calling on difficult campaigns
Building lists at home to add to the campaign
Providing input and suggestions to improve the list validation process
CONGRATULATIONS Joanne!!
Joanne's pick are the ones featured.