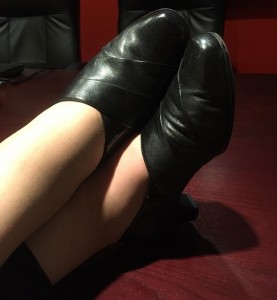 If the Shoe Fits ……………..
For the month of March, the management team would like to announce that the winner of the IF Shoe award is …….  Ann.
Ann is a great team member who is always very helpful and supportive of her colleagues.  She goes out of her way to suggest solutions and offer ideas for improving existing procedures and processes, and implementing new ones.  She has really helped the whole office with promoting Idea Factor's presence on social media sites such as LinkedIn and Twitter, and has been a great ambassador for the Blog which is part of Idea Factor's website.
She manages the relationship with many of our vendors and sources new ones
Manages the phone systems and provides depth for IT issues
Identifies problems and offers solutions
CEW/CPP programs – ensures that these programs are running in an efficient and timely manner.
She is willing to help wherever needed – for example, she assisted with extraction of statistics from the recent BP Quick Lube Campaign, enabling us to produce a Statistics Overview in the most efficient, accurate and timely fashion.
CONGRATULATIONS Ann!
Ann's choice is pictured.