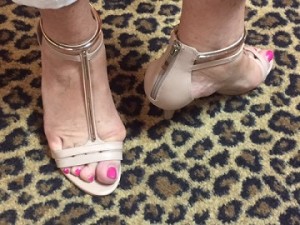 For the month of May, the management team would like to announce that the winner of the IF Chick Shoe award is ……  Jeanette.
Jeanette is our bridge between the customer and the team to ensure that campaigns are constantly worked on, customers are kept informed and the team is assigned to campaigns and tasks as needed.  She keeps the LGT team in order, is always pleasant and is definitely a favorite with the customers!
Jeanette manages to 'Keep Calm and Carry On' despite being pulled in 12 different directions every day and retains her sense of humour, no matter how tough the going gets!
Jeanette provides invaluable support to the management team in a myriad of ways, too great to list, but always much appreciated.
Jeanette deals directly with all of our customers and many vendors to ensure that we have all the components required to successfully deliver a campaign.
Jeanette's unfailing dedication to providing exemplary customer service, and her business acumen – speaks directly to our Mission and Vision Statements here at IF.
Jeanette is AWESOME!