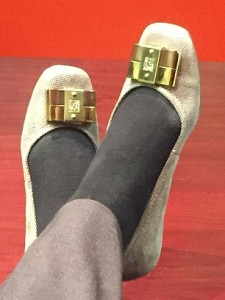 Our very first IF Shoe Award was a tough call this month as we had several people who embodied Idea Factor's vision and mission statement. We had people who autonomously built lists at home for a campaign that we were struggling to close, (Joanne & Susan) or presented solutions that led to new processes and procedures to stream-line the effort and improve the experience for both the customers and the team. (Joanne, Monique & Susan) So after review from the entire management team we have decided that January's winner is:  SUSAN!!!
Susan went over and above by:
Coming in early/staying late to try to connect with certain prospects
Building lists at home to add to the campaign
Reaching out to the customer for permission to add suggestions and strategies to improve the facilitation of the campaign and decrease the timeline
Collaborating with team members to help on other campaigns
Susan is a great team player and very supportive of her teammates
Susan rushed out and bought the pair of shoes pictured at the top.
CONGRATULATIONS Susan!!