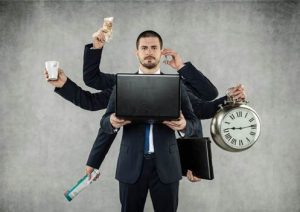 Healthy Sales Pipelines Eliminate the Peaks and Valleys of Sales Goals
Achieving your monthly sales goal can be stressful…
Maintaining a healthy Sales Pipeline is the key to a consistent and predictable sales performance. It is the best indicator of your sales team's health. Having a bigger Pipeline is not necessary, it is important to have the RIGHT KIND OF OPPORTUNITIES in the funnel. Your Sales Pipeline is your key for evaluating, managing and improving your sales process and sales team, hence the importance of making sure that it is constantly filled with new opportunities.
Problem is that most Sales People are really good at the 'sales part'… creating relationships, answering objections, preparing quotes and closing deals, but not so great at the opening the door part.
And for good reason. The skill set of the Sales Rep and the Business Development Person are completely different.
If you want to bring new life to your Field Sales Team, give them the kind of leads that make them bounce out of bed in the morning.
How?
Use your Business Development Team to:
Source a list within the verticals that you have experience in
Identify 2 to 3 key decision maker titles
Obtain the names of the people under those titles
Send them interesting direct mail
Follow up with a phone call to create interest and awareness around your service and product offerings, source for pain points and book a Face to Face meeting for your Field Reps (This usually takes more than 10 phone calls, hence not a good use of the Field Rep's time)
Send the Field Rep the date and time of the meeting, the insights gathered during the conversation, as much information as possible about the Key Decision Maker they will be meeting with, and any other Key Influencers identified along the way.
It's a Sales Opportunity — all tied up in a bow!
If your sales rep is NOT FIRED UP by that kind of Qualified Opportunity… we can re-direct you to a site to help find the Perfect Field Rep … wink wink.
Wishing you a healthy pipeline and terrific sales.
Idea Factor provides a full suite of marketing services including B2B lead generation (gathering qualified sales leads), surveys, data mapping, event tele-boosting, trade show follow up, in-bound and out-bound omni-channel call center services, data cleansing, list cleaning, customer retention and loyalty programs.
Our commitment to excellence in customer service has awarded us repeat business for more than 25 years, from both our global and community clients. To find out more go to www.idea-factor.com